Dream Holidays with COLWAY

Incentive program prepared by COLWAY for managers cooperating with our company.
We want people who have tied their fate with COLWAY to be able to use the BEST! The best products, the most generous financial plan and the opportunity to rest in the most beautiful places in the world.
The main prize in the program is a stay in one of the best resorts in the world. You can choose from resorts in the Maldives, Mauritius, Seychelles or Zanzibar. The center will be selected after the end of the qualification period and will be democratically designated by the winners of the DREAM HOLIDAY Program.

Awards in the HOLIDAY OF DREAMS Incentive Program

Rules for participation in the Incentive HOLIDAY OF DREAMS with COLWAY
? The 1st Edition of the Program lasts from March 1, 2020 to December 31, 2020
? Only COLWAY Managers who received a Managerial nomination no later than April 2020 can participate in the program
? All Managers who receive a certain number of WM points during the above qualification period can take advantage of the awards of the HOLIDAY OF DREAMS program with COLWAY. 1 WM point = one promotional set (from 7 sets dedicated to the HOLIDAY OF DREAMS Program) purchased directly by the COLWAY Manager or by any of the Distributors included in his Small Sales Organization (MOS), or 1 WM point = 4 sets purchased by Managers (and their MOS) from the line.
? If a minimum of 200 WM points is obtained during the first edition of the program – the participant has the option to transfer his points to the next edition of the program.
The main goal to be achieved is 350 HOLIDAY DREAM points purchased by your Small Sales Organization (MOS) within 10 months. Which means that an average of 35 sets per month should be recommended as part of your MOS. You can also support your First Line Managers in achieving this goal.
Sets in the Holidays of Dreams program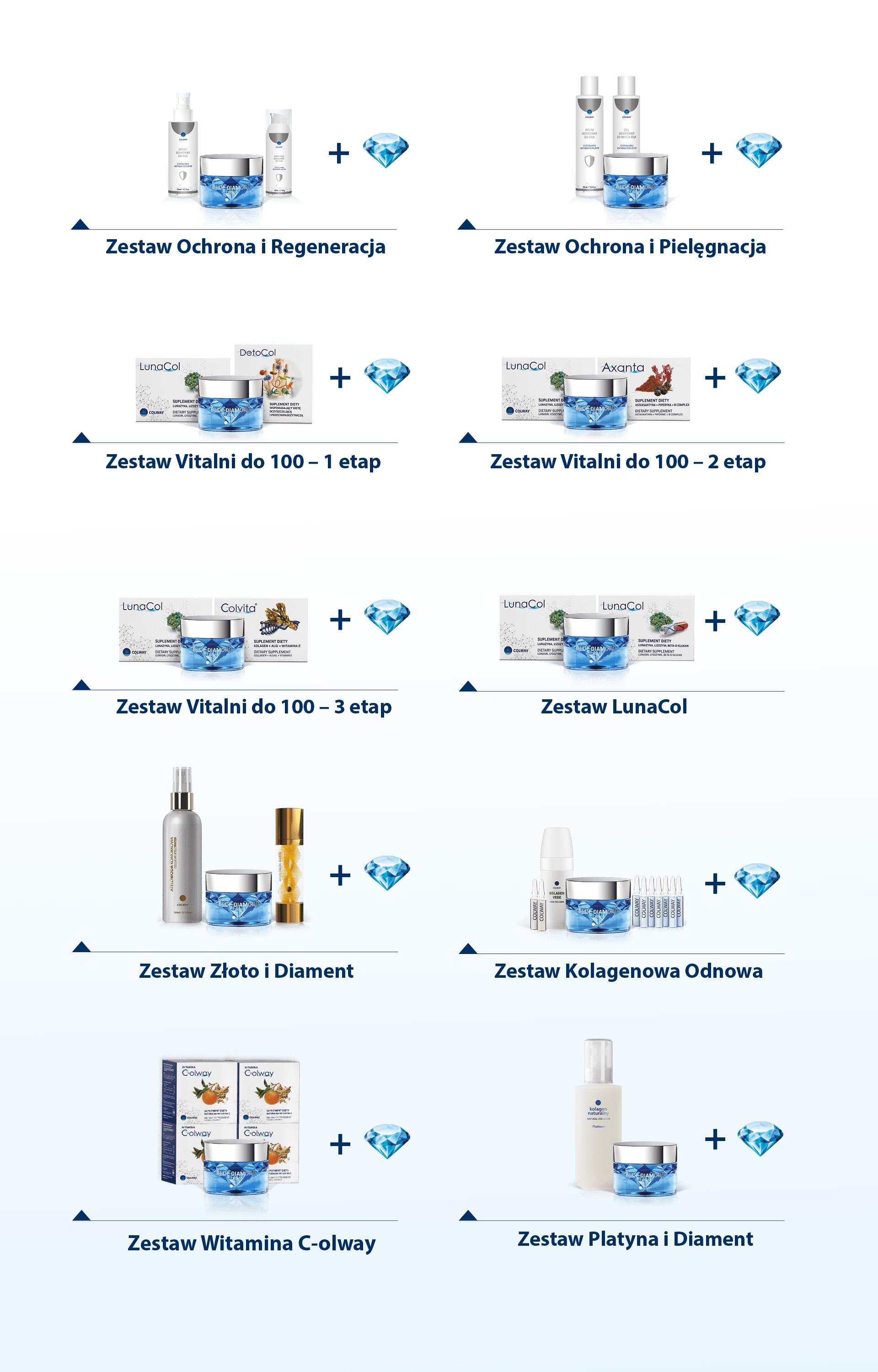 Moissanites are precious stones that are naturally formed in space. Occasionally they appear in this form on Earth when a moissanite comet hits it. Fortunately, moissanites are also produced in specially prepared laboratory conditions. Moissanites in many respects surpass the quality and beauty of their cousins – diamonds. They are currently the most expensive jewelery stones.
COLWAY has access to the highest quality stones and uses them for marketing purposes, adding them as a gift to one of its flagship products – Blue Diamond Cream.

Use the downloadable materials in the Dream Holidays Program
You can replace the Facebook cover photo with one of the following graphics:
---
Find out more about becoming a System Manager